Pure enjoyment in the Rasmushof
Prices Summer
Validity of the starting prices: April 7th to November 30th, 2024
The prices shown are guide prices and vary daily depending on availability!

The prices are per room and day for 2 people, including a rich breakfast buffet.
Excluding the local tax per person per day (from 15 years) of € 3.50.

The surcharge for half board is € 49.00 per adult and € 24.50 per child per day.
Half board includes a 4-course menu of your choice in the evening in the cozy inn or on the wonderful sun terrace.
Golf on Kitzbühel's courses
Enjoy fresh mountain air
Stroll through the city center
Summer 2024
Saison:
Doppelzimmer
Doppelzimmer zur Einzelbelegung
Doppelzimmer de Luxe
Suite
Suite de Luxe

Saison:

07.04. bis 08.05.2024

Doppelzimmer

ab € 237,00

Doppelzimmer zur Einzelbelegung

ab € 135,00

Doppelzimmer de Luxe

ab € 288,00

Suite

ab € 369,00

Suite de Luxe

ab € 531,00

Saison:

09.05. bis 18.07.2024

Doppelzimmer

ab € 251,00

Doppelzimmer zur Einzelbelegung

ab € 143,00

Doppelzimmer de Luxe

ab € 305,00

Suite

ab € 391,00

Suite de Luxe

ab € 563,00

Saison:

19.07. bis 17.08.2024

Doppelzimmer

ab € 279,00

Doppelzimmer zur Einzelbelegung

ab € 159,00

Doppelzimmer de Luxe

ab € 339,00

Suite

ab € 434,00

Suite de Luxe

ab € 625,00

Saison:

18.08. bis 05.10.2024

Doppelzimmer

ab € 251,00

Doppelzimmer zur Einzelbelegung

ab € 143,00

Doppelzimmer de Luxe

ab € 305,00

Suite

ab € 391,00

Suite de Luxe

ab € 563,00

Saison:

06.10. bis 30.11.2024

Doppelzimmer

ab € 223,00

Doppelzimmer zur Einzelbelegung

ab € 127,00

Doppelzimmer de Luxe

ab € 271,00

Suite

ab € 347,00

Suite de Luxe

ab € 500,00
Children's discounts in summer
| Age | Price |
| --- | --- |
| till 4 years | € 45,00 |
| 4 - 8 years | € 65,00 |
| 9 - 14 years | € 85,00 |
| from 15 years | € 95,00 |
Excluding the weekend surcharge of € 13.00 on Friday and Saturday, per adult
Garage space € 20.00 per day
Your four-legged friend € 26.00 per day
Golf vacation in Kitzbühel
Summer in Kitzbühel
Magnificent mountain panorama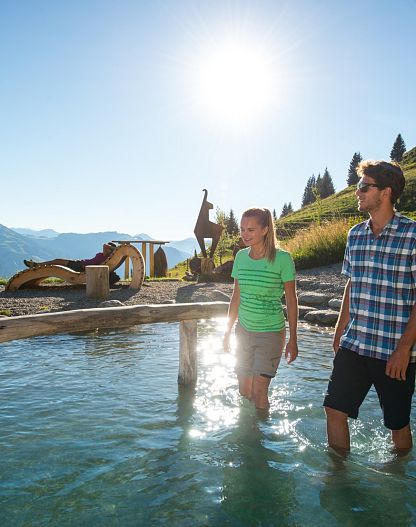 Fantastic moments on the mountain